Diving the Flower Gardens Banks National Marine Sanctuary
---
It's no secret: I love diving at the Flower Gardens Banks National Marine Sanctuary. There are a lot of reasons to love diving at the Flower Gardens. First, it's the best diving available in Texas, IMO. Sure, you can fly to Cozumel for better conditions, but the average 4-day trip to Cozumel costs at least $500 by the time you figure in airfare, hotel, food, and diving, and it also probably requires you to take at least one vacation day from work. Diving at the Flower Gardens costs $325, including food, transportation, diving, etc., and the two-day trips on the weekend can be done with no vacation days if you live anywhere east of the Dallas-Austin-San Antonio 'line.' On a two-day trip, you'll get to do 8 dives. Show me a way to do 8 salt-water reef dives for around $325 (remember, include housing, food, and transportation in that figure!), and I'll be there.
Need more convincing? OK, try this: of my first two trips to the Gardens, one trip was graced by two whale sharks, and the other served up several mantas (including a 14-foot monster), spotted eagle rays, an 8-foot nurse shark, and plenty more. The coral is healthy ("virgin" is no exaggeration!), and the fish life is plentiful.
Still aren't sure? When I was there over Labor Day weekend in '96, the water temperature was 85F, and the visibility ranged from 70 feet to over 150 feet.
If that list of features doesn't make you interested in diving the Flower Gardens National Marine Sanctuary, I'd advise you to stop reading now.
---
The Flower Gardens Banks National Marine Sanctuary is a region of water roughly 110 miles due south of the Texas-Louisiana border. It was designated a National Marine Sanctuary in 1992, which places administration and regulation of the area under the control of the National Marine Sanctuary Department (NMS) of the National Oceanographic and Atmospheric Administration (NOAA). Taking of any life from the reef is prohibited, as is commercial fishing. I think sport fishing may be allowed, but I'm not sure about that.
Clarification on Sanctuary rules: One of the Sanctuary staff members sent me some clarification on the rules for fishing within the sanctuary. Here is her statement: "Sanctuary regulations do not specify that commercial fishing is not allowed. They simply regulate the type of gear used. Any type of gear that impacts the coral habitat is not allowed (e.g. trawls, bottom long lines, traps, etc.) The regs allow fishing with "traditional hook & line" and go on to define it as including multiple hooks. This means that some forms of commercial fishing are allowed (e.g. bandit reels that snapper boats use). Spear fishing is NOT allowed, even though it does not impact the coral habitat directly, because the recreational dive community requested that provision during the designation process."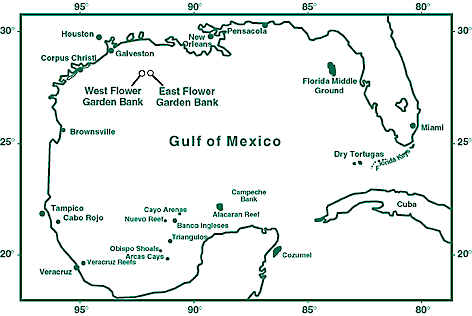 The Flower Gardens Banks consist of two salt domes which have raised the ocean floor from the 400-foot depths in the immediate area to just under 70 feet in the center of the banks. These two plateaus are home to the northernmost coral reefs in the Gulf , hosting several different species of hard coral. Soft coral, for the most part, is absent. The Flower Gardens Banks are also home to hundreds of species of Caribbean fish, and sightings of large pelagics are frequent.
---
General Description of FGBNMS Dive Trips
Want to go diving at the Flower Gardens? As far as I know, Rinn boats is the only operation offering regular trips to the Flower Gardens. There are other operators (see below), but they none seem to be as regular and reliable as Rinn.
The M/V Spree and its sister ship the M/V Fling are operated out of Freeport, Texas, by Gary Rinn of Rinn Boats. You can reach them at 979-233-4445, or you can visit their WWW page at http://www.rinnboats.com. The only problem is: the Spree and Fling do not sell their spots directly to the public. They wholesale the spots to dive shops, so if you want to schedule a trip you'll have to do it through a dive shop. The nice thing about visiting Rinn Boats' Web site is that they make available a complete schedule for the next year, listing trip dates and which shops have bought spots on which trips. They also give phone numbers for the dive shops, so you can find the date you want and call the dive shops listed under that date, even if they're not in your home town. On one trip, a woman from Baton Rouge had booked a spot through our local dive shop here in Austin.
Most trips to the Flower Gardens are two-day trips over a weekend. However, they run the trips continuously, so there are three-day, four-day, and even five-day trips which go out during the week. Three-day trips are around $400 per person, all inclusive (except tips, sodas and beer). The two-day trips usually run about $325 or so.
Anyway, the Spree is a first-class professional operation, by my reckoning. The boat is 100 feet long, and has space for 34 passengers, plus crew. They run a galley which basically cranks out food from sunrise to bedtime, including three full meals per day, plus a constant stream of snacks. Tea, tang and lemonade alternate in two coolers, with plenty of ice available to cool them down. Beer and sodas are available for a nominal charge. The food is certainly nothing to write home (or a Web page) about, but it's hot, plentiful, and always available. For a short trip like this one, that's all that counts to me.
There are two captains on the boat, two boat divemasters (who run all the dive operations and briefings) and two galley crew. In addition, each dive shop with spots on the boat sends a 'shop divemaster' along to look after their divers.
The crew are extremely safety conscious. They enforce a 100-foot maximum depth, and they also enforce a 2-1/2-hour surface interval between dives. This seemed a little extreme to me, but after two consecutive dives at 75 feet (about average depth for diving at the Flower Gardens), I realized that 2-1/2 hours is not such a bad idea. We spent the entire trip diving the limits of our computers' no-deco times.
I also have to say that I am generally impressed with the quality of the boat divemasters. So far, I have seen a well-known local U/W photographer, with upwards of 20 years of diving experience, an experienced cave/tech diver with a wealth of commercial and professional diving experience, and more. Talking to the DMs can be really fun; I learn a lot about diving techniques and philosophy by just listening to the stories of some of their favorite dives.
When you check in to the boat, the first thing you do is select a bunk. The bunks are numbered, and that number is yours for the trip. When you start a dive, the entry divemaster asks you for your number, and records your entry time on a board which tracks every dive of the trip. He/she also performs a cursory check of your equipment, making sure your air is on, etc. In you go! Upon exit, the exit divemaster asks for your bunk number, and checks your depth and bottom time. If you exceeded the 100-foot limit or went into deco, you won't be allowed to make the next scheduled dive. Initially I was a little put off by the stringent safety requirements, but the more I dove at the Flower Gardens, the more I understood their concerns. I made 12 dives over 3 days, and all but 1 were at depths over 70 feet, with bottom times usually upwards of 30 minutes.
You need to bring all of your own gear with you. The boat has a few extra weights on board if you find yourself to be underweighted, but that's it. You need to bring one full tank with you; your tank will be filled for you during the surface intervals. They have rinse buckets on board for cameras and masks, and a deck shower (plus showers in the heads), but nothing for rinsing other gear. Plan to rinse out your gear at home afterwards!
---
Other Flower Gardens Web sites
Almost everyone who dives the Flower Gardens loves it. Here are WWW sites I have found on the Net. If you know of others, please e-mail me!
---
Other ways to get to the Flower Gardens
Here is a partial list of operators who visit the Flower Gardens Banks:
| | |
| --- | --- |
| Name | Telephone |
| Rinn Boats | (979) 233-4445 |
| Undersea Ventures (Sea Searcher II) | (800) 396-3483 |
Recently I was told that there are other boat operators which go out to the Flower Gardens. Here's the info which was sent to me:
I just wanted to let you know that another boat is operating in the flower gardens besides Rinn boats. The guy is just starting out with the boat. I'm going with him Saturday... His name is Bill Gregory from Alexandria, La. He owns Gregs dive shop, phone number is 318-487-4369. His current charge is 125.00 per trip. He is a scuba instructor and commercial diver. His boat is out of Sabine Pass. Just thought I would pass this along.
I'll post updates as I get them...

OK, I have checked out this report, by calling the number listed above. They have a 55-foot crew boat, and they go out to the Gardens about once per month in the winter months, and about twice per month in the summer. They don't visit West Bank or Stetson Bank, but rather go to East Bank and then some place Greg calls "Candy Mountain." The trips are weekends only, and the two-day trip runs $275. They're supposed to be putting together a WWW site right now; when it's available, I'll post the URL.

Another Update: someone wrote in to tell me that Capt. Gregory no longer makes trips to the Flower Gardens. I don't know about the "Candy Mountain" trip. (7/2000)
---
Last updated August 10, 2001