July 1998 Bonaire Trip Report
Text and images copyright (C) 1998 David M. Read
---
From July 18 through July 25 of 1998, I visited Bonaire with my wife and two friends. This is a report of that trip.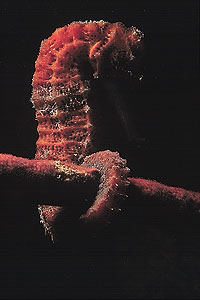 We arrived late in the afternoon on the 18th, having left Dallas at 6am, flying American Airlines through Miami and on to Curacao, where we changed airlines to ALM. We checked our bags through to Curacao, where we picked them up, cleared customs, and re-checked them with ALM. Our total checked-baggage weight was 83 kg, which resulted in an excess-baggage charge of about $20, which we paid at the counter. The flight to Bonaire was unremarkable, and we arrived (with all of our bags) only about 30 minutes behind schedule.
We checked in at the Carib Inn that afternoon, and my wife and I went for a short snorkel right away. The Carib Inn is a lovely little place, with just 10 rooms and maybe 25 total guests. Their prices are completely reasonable; my wife and I paid $100 (including taxes) per night for our poolside kitchenette-equipped room, and $100 per person for tanks & weights for the week.
The Carib Inn is located just south of Kralendijk, the main town on Bonaire, but north of the airport. It fronts right onto the water, with its own dock and a small area for shore entry/exit. The only complaint I had about the Carib Inn is with the way tanks are provided for shore diving. When you check in, you are assigned a tank, which is uniquely numbered. When you use a tank, you bring it back for a fill. In general this doesn't present too much of a problem, but if you want to dive the more remote locations (such as Red Slave or Invisibles on the south end, or Karpata or 1,000 steps on the north end), taking enough tanks for a couple of dives would be nice. Driving the 20 or 30 minutes back to the CI, and then waiting another 30 minutes for a tank fill, really limits the number of dives you can do in a day.
Armed with our loyal 1.0 liter Suzuki Super Carry (which we nicknamed the POSPIA), we drove all over the island, hitting as many different dive sites as we could manage. The only shore sites we dove more than once were Salt Pier (one day, one night), and the reef right in front of the Carib Inn (Calabas reef). Individual dive descriptions follow the rest of this text.
| | |
| --- | --- |
| | The island itself is nothing to look at. If not for the ocean surrounding the island, I would have guessed it was West Texas; lots of scrub brush and cactus, and not much green. However, there are plenty of interesting buildings and animals on the island. The south end has some beautiful seascapes and a picturesque lighthouse, and the north end has a flamingo sanctuary. |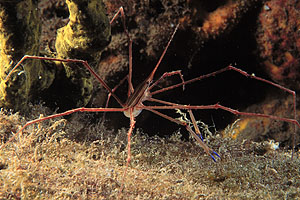 As for diving, I have to say that I was a little disappointed, overall. There was very little in the way of big fish. We did see a few turtles, three seahorses, and lots of little fish of various description. I was hard pressed, however, to find anything I really wanted to photograph. Maybe that says something about my photographic skills...but the 60mm macro lens I carried wasn't long enough to photograph the little fish, and there wasn't much in the way of larger fish for me. I was amazed to look at 15 rolls of slides when I got home, discovering that most of the frames made me think "so what?" In addition, the visibility, while hardly "awful," never exceeded 80 feet or so. There was also a lot of large particulate matter in the water which limited the long-range vis and made photography difficult. The water temperature was great, running 83 to 85 F on almost all of the dives.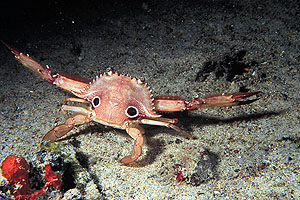 I had heard about Town Pier long before I started planning the trip, but several people also told me about how great Salt Pier was. Salt Pier turned out to be disappointing, but Town Pier lived up to every rave I have ever heard about it. Even with the hordes of divers in the water, the pier was one of the most amazing dives I have ever done. Seahorses, numerous juvenile spotted drum, free-swimming morays, all sorts of shrimp & crabs, etc. Town Pier at night is not to be missed.
One of the things which sets Bonaire apart from many other Caribbean locations I have visited is the number and quality of restaurants. We ate only a couple of mediocre meals; most were good, and several were excellent. The best restaurant on the island was easily Richard's, which was just three or four doors down from the Carib Inn. Below is a list of the restaurants we visited, along with prices, ratings, and comments. Be advised that Bonaire is definitely on "island time," so even lunch typically runs an hour or more. Dinners can take 2+ hours.
Restaurant Ratings: this is a list of the places we visited during our stay. Some places we visited more than once. The numbers are on a 1 to 5 scale; 1 is "low", 5 is "high." Higher numbers are better, except for the price. "Rating" is what we thought of the food. "Price" is what it cost us; the '5' scale represents dinners over $100 for 4 people; 1 would be under $50 for 4 people. 'Speed' may or may not be important to you. '5' = "US restaurants", '1' = "island time."
| | | | | |
| --- | --- | --- | --- | --- |
| Restaurant | Rating | Price | Speed | Comments |
| Richard's | 5 | 4 | 5 | Great seafood, snappy and friendly staff.; Richard works the tables himself, making sure that everything is right. He also searches out the best, freshest seafood on the island. This is one of the better restaurants I have visited anywhere. We liked it so much that we made two trips there during our stay. |
| Green Parrot | 4 | 4 | 3 | Middle-of-the-road fare, slightly higher prices than it deserves. Due to the popularity of the place, it's best to visit at lunch |
| Croccantino | 4 | 2 | 5 | Great italian food in the center of town. Priced well, served quickly. Generally a thumbs-up, and probably the overall value winner of the places we visited. |
| Zeezicht | 2 | 4 | 1 | Bad food, slow service, snotty staff. You'll never catch me there again. |
| Hart House | 3 | 3 | 1 | Pizza, and pretty decent. Be prepared to wait, but what you get is worth eating. |
| Old Inn | 5 | 5 | 3 | They have a 'traditional' menu, but the real treat is their fabulous Indonesian food. Get the huge meal ('rijnstaffel'), which is a many-course meal which literally covers the table. Unforgettable egg rolls. |
| Mi Poron | 1 | 1 | 1 | Not sure what they serve, as they didn't seem to have much of anything. Supposedly they're known for their goat dishes, but the day we were there, they were out of everything except smoke tuna and Krab ("kay-rab" to us) salads. Skip it. |
| City Cafe | 3 | 2 | 3 | Great lunch spot near Town Pier. Sandwiches, burgers, etc. My wife tells me that the sandwiches are very European. I loved both lunches we ate there.z |
Onto the diving. Here are excerpts from my dive log.
| | |
| --- | --- |
| Dive #1: Calabas Calabas is the house reef at the Carib Inn. The dive starts off very shallow, as you have to swim 25 yards across a sand flat to reach the shoulder of the wall. It goes as deep as you like; the coral stops at about 100 feet or so. Soft corals everywhere: sea whips, sea plumes, etc., all inhabited by fish & critters. Trumpetfish are incredibly numerous here. Lots more anemones that I am used to seeing. Anne found a cleaner shrimp in one of the anemones. I expect we'll see a lot more of that. We also found a giant anemone at about 20 feet. It had long tentacles with big purple balls on the end. The fish species list is too long to list exhaustively: blue & brown chromis, dusky, threespot, bicolor and yellowtail damselfish, morays, peacock flounder, scorpionfish, fairy basslets, a red hind, french grunts, juvenile french angelfish in profusion,rock beauties, juvenile spotted drum, smooth trunkfish, etc. One of the juvy french angels was cleaning a parrotfish! | |
| | |
| --- | --- |
| | Dive #2: Salt Pier The pilings are not as covered with coral and sponges as I had expected, but there is plenty of other stuff to see. The ground under the pier and around the pilings is ripe with corals both soft and hard, which provides plenty of places for fish to hide. The bigh finds for this dive were things we had never seen before: a chain moray and a 4-foot jewfish, two adult spotted drums, and a spotted trunkfish. There was plenty else to see, though: 2 Queen angels, a white scorpionfish, a whitespotted filefish, many banded cleaner shrimp, zillions of trumpetfish, a tiger grouper, and all the small critters you could ever want. There's a steep wall at the edge of the pier, very cool. |
| | |
| --- | --- |
| Dive #3: Salt Pier (night dive) Dull dive, altogether, although I hesitate to call any night dive "dull.". I suspect that 8pm was too early to start this dive. The reef hadn't shifted into "night mode," so many of the night critters were absent. There really isn't much to report from this dive, other than a large basket star on top of one of the sea plumes. | |
| | |
| --- | --- |
| | Dive #4: Karpata Karpata is the nothernmost dive site before you get to Washington Slagbaai park. This is the first true wall we've seen on Bonaire. The wall starts at about 25 feet, and drops off as far as the eye can see. The coral is in great shape, with lots of whip coral and plenty of sea fas, rods, and plumes. There were a few sponges, too, and lots of fish. We spotted a couple of barred hamlets, a large peacock flounder, and a large crevalle jack cruising the shallows. Also saw another couple of adult spotted drum. |
| | |
| --- | --- |
| Dive #5: Mi Dushi (Klein Bonaire) "Mi Dushi" is papiemento for "my sweetheart," and a sweetheart of a dive this was. We saw our first seahorse on Bonaire. It was a little bigger than I expected, maybe 5 or 6 inches long. It was anchored to a finger sponge at about 50 feet. Very cool. Then we saw more neat stuff near the boat: 2 slender filefish and a solitary reef squid, followed by a hawksbill turtle. There was lots of good stuff in the shallows, including a huge field of staghorn coral, a couple of harlequin bass, and a truly mammoth trumpetfish. | |
Dive #6: Calabas Just a short dive before dinner. Went deep (100') to check out the sand flats, where we found a bunch of garden eels. I waited, lying in the sand for 10 minutes, until one of the eels came out of its hole for a photo. Found another peacock flounder, this one down deep.

Dive #7: Calabas (night dive) We stayed shallow by the Carib Inn dock for this one, and had a blast. We started off under the dock, looking at the tubeastria coral, and then headed for the wall. The reef at the top of the wall did not disappoint us: a giant tarpon, plenty of belted cardinalfish, several puffers and all sorts of other night fissh. The real fun was finding an octopus, and then playing with it for a few minutes, and then we found a 4" batwing coral crab. Finally we saw a small (~ 18 inch) spotted moray free-swimming in the shallows.
| | |
| --- | --- |
| Dive #8: Alice In Wonderland Alice In Wonderland sports an easily accessible double reef structure. A sand flat separates the two reefs at around 80 to 90 feet, then the second (outer) reef rises to about 50 feet. The second reef is sort of dull, with only hard corals, and a lot of it seemed to b over-run with algae. The first reef, OTOH, is pretty interesting, especially in the shallows. We saw lots of flamingo tongues above 20 feet, and two slender filefish in a sea plume. Also lots of rough fileclams in crevices in the coral heads. | |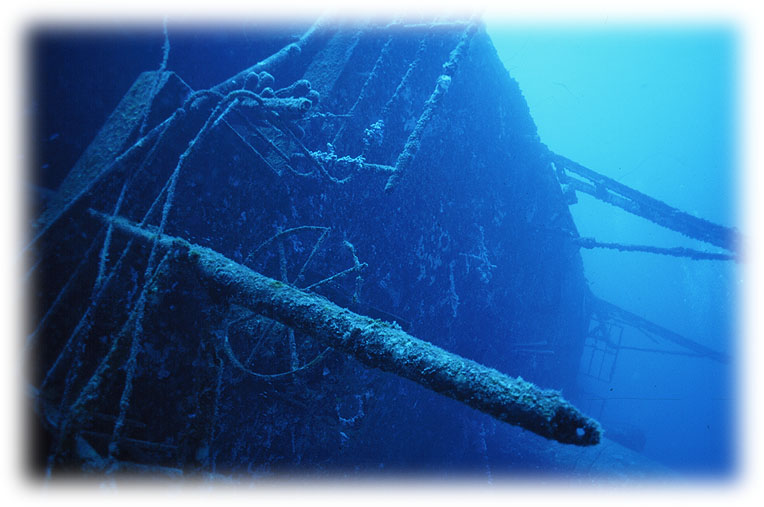 Dive #9: Hilma Hooker The Hilma Hooker is amazing. 235 feet long, parked on her side in roughly 100 feet of water, lying in a sand flat at the bottom of the wall. She lies on her starboard side, and her ~40 feet of beam means you can swim on top of the wreck at a depth of about 50 feet. Lots of whip coral hanging from the bottom of the hull. Lots of sponges and other life all over. Altogether an awesome dive. Be sure to look up at the wall as you swim along the top of the wreck!

I had a close encounter with a turtle on the way down to the wreck; a 3-foot hawksbill swam within a couple of feet of my lens, and posed for a photo or two. Also saw a very large (6-inch diameter) atlantic thorny oyster attached to the hull near the bow. It closed up as soon as I got near it. How did it know?
| | |
| --- | --- |
| | Dive #10: Calabas Short dive, kind of fun. The biggest find was a sharptail eel and a scorpionfish, both towards the end of the dive. Quick visit from a large tarpon. First sighting of an orangespotted here on Bonaire. Lots of white-spotted filefish so far, but this was the first orangespotted. Shot a couple of frames of peppermint gobies. |
Dive #11: Town Pier (night dive) Town Pier is not to be missed, a total eye-opener. The species list is too numerous to write, but the big ones were a seahorse, an octopus, a manytoothed conger, several ocellated swimming crabs (cool spots), zillions of spotted drum (juvenile, sub-adult, and adult), a couple of spotted morays, many HUGE banded coral shrimp, and more.

This was one of the great dives of my life. Even when the waters got crowded, there was plenty to see. A must-do dive!

The scene under the pier is incredible. All the junk at the bottom houses life of some sort. Every tire has a crab, a shrimp, a moray, or at least some coral or a sponge. The pilings are alive with sponges of all types. Even the ground seethes with fish. On our way out, we saw a three-foot porcupine fish.
| | |
| --- | --- |
| | Dive #12: Margate Bay The dive started off dull, but got good at the end. Despite the site's name, we saw only one margate. We also saw a HUGE spiny lobster (possibly the largest I have ever seen), and a slender filefish floating among a finger sponge. Later I saw another slender filefish in the shallows. There were a few azure vase sponges, which were irridescent purple-blue tubes no more than 10 inches tall. The highlight of the dive was near the end, when a 3-foot hawksbill turtle swam by and played for a few minutes. |
| | |
| --- | --- |
| Dive #13: Ol' Blue Ol' Blue is north of 1000 steps, south of Karpata, and has an entry much like that of Karpata. Same kind of terrain, too, although the fish life is a little different. We saw several queen angelfish, a couple of morays, a few pearly razorfish, another barred hamlet, and a couple of yellowtail hamlets. | |
| | |
| --- | --- |
| | Dive #14: "Dave's Place" We couldn't find a marker for this site, so we named it ourselves. We pulled our POSPIA off the road just behind the airport, next to a small rock jetty, and entered the water in the shelter of the jetty. There is a barrier reef which creates a small lagoon, so we had to swim in shallow water (3 feet or so) to get around the barrier reef and on to deeper water. Lots to see, lots to photograph. Queen angels, flameback angels, graysbys, cleaner shrimp, etc. etc. This site goes very deep; the sand flat at the bottom is at 150 feet. There's lots of whip coral below 100, along with plenty of sponges. |
| | |
| --- | --- |
| Dive #15: Small Wall (boat dive) Small wall is a large experience. The wall, very steep --vertical, in fact--starts at about 40 feet and goes only to 65 feet or so. It's more of an underwater cliff than a wall. There's a small cave at the bottom, big enough for someone to crawl into and maybe lie down lengthwise. The top of the wall is covered with soft coral and small sponges. One of our group found a seahorse at about 40 feet, on top of the wall. There's also plenty of action in the shallows, where juveniles of several congregate. It's worth mentioning that Small Wall should be considered a boat dive, because the owner of the Black Durgon Inn (where the site is located) is a first-rate jackass who won't let other divers across his property in order to dive the site. | |
| | |
| --- | --- |
| | Dive #16: Forest (Klein Bonaire) Our last dive on Bonaire, kind of sad. Great dive, though. We saw lots of black coral starting at about 45 feet, and spent lots of time looking for frogfish. Saw a huge (4') black grouper swim by, then we saw him again at a cleaning station. Also saw another tiger grouper, some mahogany snapper, a dog snapper, and several young & playful black durgons. Found a very small goldentail moray in the shallows. We had fun watching a trumpetfish use a parrotfish as hunting cover. |
Dive Summary:
| | | | | |
| --- | --- | --- | --- | --- |
| Dive | Site | Depth | Time | Comments |
| 1 | Calabas | 73 | 1:00 | House reef at Carib Inn. Getting wet, checking weighting. |
| 2 | Salt Pier | 49 | :52 | "Deep" end, near drop-off, seems to be the best part. |
| 3 | Salt Pier | 37 | :34 | Night dive! Great basket star. |
| 4 | Karpata | 74 | 1:00 | Peacock flounder, amberjack, spotted drum. |
| 5 | Mi Dushi | 67 | 1:04 | Klein Bonaire, complete with seahorse. |
| 6 | Calabas | 117 | :34 | Pre-dinner dive |
| 7 | Calabas | 24 | :24 | Night dive! Tarpon, cardinalfish, octopus. |
| 8 | Alice in Wonderland | 92 | 1:00 | Stay on the inner reef; The outer reef is not worth the swim. |
| 9 | Hilma Hooker | 98 | 0:46 | Awesome dive. Best part was swimming along the top of the wreck, looking back towards the wall. |
| 10 | Calabas | 69 | 0:45 | Sharptail eel, scorpion fish, orangespotted filefish. |
| 11 | Town Pier | 28 | 1:00 | Night dive! Probably the most exciting dive of the trip. |
| 12 | Margate Bay | 69 | 1:00 | Several slender filefish, big hawksbill turtle. |
| 13 | Ol' Blue | 79 | :45 | Pearly razorfish in the shallows, lots of queen angels. |
| 14 | Dave's Place | 151 | 1:01 | Cleaner shrimp, arrow crabs, lots of sea whips deep. |
| 15 | Small Wall | 65 | 1:11 | Exceedingly cool dive. Another seahorse. |
| 16 | Forest | 67 | 1:20 | Big grouper, mahogany snapper, friendly black durgons. |
Last updated 12/24/98
About | UW Photos | Scuba Picture Uv the Day | Flower Gardens | Aquashot | Trip Reports | RSDiver | Photo Instruction | News | Desktop/Screensaver Images | Site Map